Statistics:
Total lounges: 698
Total pictures: 1090
Page-views today: 116

Premier Lounge,
Denpasar International Airport (DPS), International Terminal, Bali, Indonesia

---

Location

Air-side, pass immigration, turn right, and go down hall to the area near Gates 1 and 2.
Take stairs up one floor from departure level (which is level 2), Lounge is on level 3.
Phone: +62-361-766-965
Email: premier_lounge.dps@ptjas.co.id

Hours - * Note that opening hours information are deemed reliable but subjected to airline schedule and seasonal changes.

Open from 6:00am to 2:00am Monday to Friday.
Open from 6:00am to 4:00am Saturday and Sunday.

---

Admissions Policy
This lounge is a contract lounge for the following airlines' premium class passengers:

Cathay Pacific
China Airlines
Continental Airlines
EVA Air
Japan Airlines
Korean Airlines
Malayais Airlines
Royal Brunei
Singapore Airlines
Thai Airways

At the airline counter, the check-in staff will provide a lounge invitation card along with your boarding-pass. On the back of the lounge invitation card is a map showing the location of the lounge.

In addition, this lounge is part of the Priority Pass network, members can also access this lounge.

For all other travelers, they can access this lounge with a admission fee of 250,000 Indonesian Rp per person.

---

Overview

This is a spacious lounge, decorated in modern Balinese style. Of the three lounges in the Denpasar International Terminal, this is by far the best lounge, and is used by most carriers in Bali for their premium class passengers.

Our Lounge Expert team members probably have been in this lounge more than 10 instances, and it usually is not very busy; perhaps because we generally take the late afternoon flights in order to spend as much time as possible in Bali.

The staff members in this lounge is quite pleasant, and refills the food quickly.

As the lounge is located at one end of the terminal, it might be a few minutes walk to your gate.

---

Food and Beverage

There is a better than average food offering in this lounge, including a salad bar, steamed buns, soup, a couple hot entree, finger sandwiches, fresh fruit, cheese and cracker.
A variety of hot and cold drinks, juices, and alcoholic beverages.
In addition, there are desserts such as cakes and cookies for those with a sweet tooth.

---

Business center and services

WiFi is not confirmed to available in the lounge.
Three workstations with printer access, but the internet connection appears to be very slow.
International telephone calls and fax are subjected to payment.

---

Shower and Facilities
Shower facility is available.

---

Special facilities

There is a an outdoor terrace area with tables and chairs, and you can get a partial view of the apron. However, there is a tall security fence partially blocking the view.

In addition, there is paid massage service that offers foot reflexology massage in the lounge. Cost is believed to be around 50,000Rp for 10 minutes.

---

Additional Pictures
Click here to see a total of [ 18 ] higher-resolution pictures for this lounge.

---

Note: Information deemed reliable but not guaranteed, contact your airline to confirm lounge information.
Custom Search
Selected Lounges: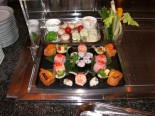 United Airlines' First Class Lounge at Toyko Narita Airport
---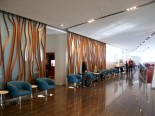 Air Canada's Maple Leaf Lounge at Toronto Pearson Airport
---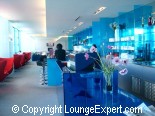 Virgin Atlantic's Clubhouse Lounge at San Francisco International Airport
---