Statistics:
Total lounges: 698
Total pictures: 1090
Page-views today: 660

Air Canada Maple Leaf Lounge ,
Pearson International Airport (YYZ), Transborder Section, Toronto, Canada

---

Location

Terminal 1, level 4, Node F
Once pass security, take elevator to lounge

Hours - * Note that opening hours information are deemed reliable but subjected to airline schedule and seasonal changes.

---

Admissions Policy

Air Canada Maple Leaf Club members
Air Canada Super Elite and Elite members, along with their spouse or domestic partner, dependant children, and one guest.
American Express Maple Leaf Club card holders.
CIBC Maple Leaf Club card holders.
American Express AeroplanPlus Platinum and Corporate Platinum card holders.
Executive First and Executive Class ticket holders. Note: upgraded tickets do not provide access to the Maple Leaf Lounge.
Select Economy ticket holders who have purchased lounge access in advance, not available for purchase at airport.
Star Alliance Gold members and one guest.
United Airlines Red Carpet Club members and one guest.
US Airways Club members and one guest.

---

Overview
A spacious lounge with plenty of natural sunlight, it could get a little crowded during busy hours.

---

Food and Beverage

Hot soup
Finger sandwiches
Salad, fruit, vegetable, and dip
Bread and cookies
Alcoholic beverages and non-alcoholic drinks

---

Business center and services

Hewlett-Packard business center with internet connected workstations, copiers, printers and fax.
Free Blackberry mobile printing
Datavalet WIFI coverage

---

Shower and Facilities
Showers are available in this lounge.

---

Special facilities
Sony Theatre Room with large screen and private seating area.

---

Additional Pictures
Click here to see a total of [ 16 ] higher-resolution pictures for this lounge.

---

Note: Information deemed reliable but not guaranteed, contact your airline to confirm lounge information.
Custom Search
Selected Lounges: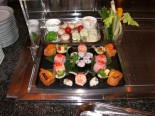 United Airlines' First Class Lounge at Toyko Narita Airport
---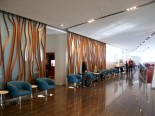 Air Canada's Maple Leaf Lounge at Toronto Pearson Airport
---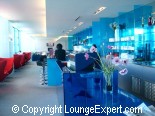 Virgin Atlantic's Clubhouse Lounge at San Francisco International Airport
---