Statistics:
Total lounges: 698
Total pictures: 1090
Page-views today: 659

Lufthansa First Class Terminal,
Frankfurt am Main Airport (FRA), Frankfurt, Germany

---

Location

The Lufthansa First Class Terminal (FCT) is located in its own multi-story building, right after you take the Frankfurt exit off the autobahn, and before the primary airport terminal.
Follow the signs to the departure level of Terminal 1. Before you reach Terminal 1 turn right towards the First Class Terminal.
Previously, if you arrived in Frankfurt terminal 1, you can request transfer from the main terminal to the FCT. Our experience is that the wait for the transfer car to arrive could be lengthy from time to time, so not much is lost when Lufthansa canceled this service.
Take a short walk after exiting from Terminal 1 and turn left toward the standalone building of the FCT. The FCT is a few hundred feet away, about a 5-minute walk.

Hours - * Note that opening hours information are deemed reliable but subjected to airline schedule and seasonal changes.

Open daily from 5:30am to 11:45pm
Phone: +49-(0)6107-9857 0
frankfurt.lounges@doco.com

---

Admissions Policy

Lufthansa HON Circle members and Lufthansa First Class passenger, departing from Frankfurt that day on a flight operated by Air Dolomiti, Austrian Airlines Group, Lufthansa, Lufthansa Regional or SWISS.
One guest whom is booked on the same Lufthansa, Austrian Airlines or SWISS flight.
Spouse or partner and children under 18, provided that they are also booked on the same Lufthansa, Austrian Airlines or SWISS flight.
On a number of different occasions, our LoungeExpert team members have arrived on Lufthansa International First Class, connecting to intra-Europe Business Class, as well as departing on Lufthansa International First Class, and were welcome into the FCT on every occasion.

---

Overview

This is one of the first Super lounges, with over 18,000 square feet of space, welcome its first guests on December 1, 2004.
About 300 passengers daily using this FCT, served by close to 200 staff members. Full immigration and customs facilities, and security screening facilities made this FCT a fully standalone terminal.
Valet parking and rental-car return service are provided for passengers.
There is a star-quality restaurant, a dedicated cigar room, luxirous private baths, day-use sleeper rooms, and individualize offices.
Normally the staff member will wait until boarding is almost complete before escorting passengers through the dedicated immigration controls in the terminal, and passengers are then driven directly from the terminal to their aircraft by a chaffeure-driven Mercedes-Benz S-Class, Porsche Panamera or Cayenne. Passengers will be escorted up the stairs at the jetway, and completely bypasses the normal terminal traffic.

---

Food and Beverage

Catering by the Austrian company DO & CO
Table service with white-linen table cloth.
Also execellent buffet selection with hot and cold entree
Menus are available for all meal services, and hors d'oeuvres are made to order.
A large selection of alcoholic drinks and liquor choices.
Freshly sliced cured ham.
Tasty dessert cart for those with sweet tooth.

---

Business center and services

Individual enclosed offices are available.
Free WIFI required access cards, request them from the attendants.
Telephone with free local calls.
Fax, printer and copier.

---

Shower and Facilities

Individual luxurious bathrooms with showers are available, along with Etro brand bath amenities.
There is also some individual bathrooms equipped with bathtubs.

---

Special facilities

Parking and free rental car return service handled by Sixt Valet service, regardless of your rental car company. The valet will also transport your luggage to the luggage check station.
Self-contained customs and immigration.
Chauffeur driven transfer directly from the FCT to your aircraft on the tarmac.
Separate cigar lounge with its own ventilation.
There is also a visitors' comment book full of well-deserved praises for the services provided at this lounge.

---

Additional Pictures
Click here to see a total of [ 50 ] higher-resolution pictures for this lounge.

---

Note: Information deemed reliable but not guaranteed, contact your airline to confirm lounge information.
Custom Search
Selected Lounges: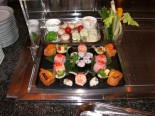 United Airlines' First Class Lounge at Toyko Narita Airport
---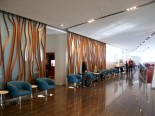 Air Canada's Maple Leaf Lounge at Toronto Pearson Airport
---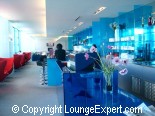 Virgin Atlantic's Clubhouse Lounge at San Francisco International Airport
---