Statistics:
Total lounges: 698
Total pictures: 1090
Page-views today: 597

Virgin Atlantic Clubhouse,
San Francisco International Airport (SFO), International Terminal, San Francisco, USA

---

Location

International Terminal A, 5th floor, approximately 4,600 square feet.
The Clubhouse is located next to the Aviation Museum, prior to the security checkpoint for Boarding Area A. Take the elevator to Level 5 and follow the signage.

Hours - * Note that opening hours information are deemed reliable but subjected to airline schedule and seasonal changes.

---

Admissions Policy

Upper-Class passengers.
Virgin Atlantic Flying Club Gold member and one guest, regardless of class of travel.
Virgin America First Class passengers with supplemental lounge access fee.

---

Overview

This is a very nice lounge, with plenty of large windows that provide lots of nature light. The distinctive choice of colors and the chic staff help this lounge stand out.

Instead of buffet-style food stations at most other lounges, the Clubhouse guests can order from a printed menu, and entrees and desserts are made to order. The quality of the food offering compares favorably with those of higher end restaurants. For passengers traveling to London, you could have your dinner at the Clubhouse and skip the meal service on the plane and get more sleep en route; Upper Class passengers with their full-flat beds will probably wake up fully refreshed as they arrive in London in the morning after the overnight flight.

---

Food and Beverage

Full-service dining (fresh, seasonal snacks – light meals, full meals)
Full-service cocktail bar
Full-service beverage bar (espresso drinks, smoothies, other non-alcoholic drinks)

---

Business center and services

Internet connection, fax, phone, A/V equipment available
Additional Internet and phone jacks located throughout the Clubhouse

---

Shower and Facilities

Two uni-sex private shower rooms

---

Special facilities

Full-service flight check-in (passengers can go straight to the Clubhouse and avoid the lines at the ticket counters)

---

Additional Pictures
Click here to see a total of [ 22 ] higher-resolution pictures for this lounge.

---

Note: Information deemed reliable but not guaranteed, contact your airline to confirm lounge information.
Custom Search
Selected Lounges: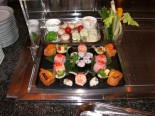 United Airlines' First Class Lounge at Toyko Narita Airport
---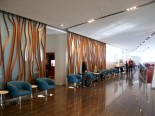 Air Canada's Maple Leaf Lounge at Toronto Pearson Airport
---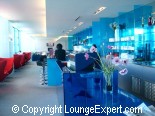 Virgin Atlantic's Clubhouse Lounge at San Francisco International Airport
---