Statistics:
Total lounges: 698
Total pictures: 1090
Page-views today: 595

United Airlines United First International Lounge,
Narita International Airport (NRT), Satellite 3, Tokyo, Japan

---

Location

Air-side, Satellite 3
Upper level of the United Red Carpet Club lounge.

Hours - * Note that opening hours information are deemed reliable but subjected to airline schedule and seasonal changes.

---

Admissions Policy

International United First Class passenger on long-haul flights.
This includes paid, award, as well as upgraded First Class tickets
One guest is allowed for First Class Ticket holder.
Star Alliance International First Class ticket holder. Customer must present a boarding pass for the same day travel in international First Class on a Star Alliance flight, and departing from the local airport in International First Class. Customer is entitled to one guest.

First class lounge is accessible by elevator inside the United Airlines Red Carpet Club.
Red Carpet Club staff will operate the elevator for access to the lounge above the Red Carpet Club lounge.

---

Overview
Comparing with other United Airlines' lounges, this lounge provides the most comfortable and exclusive environment.

---

Food and Beverage

Hors d'oeuvres, finger sandwiches and cookies
Light snacks such as cheese, crackers, fresh fruits, vegetables, mixed nuts, and chips & dip.
Soft drinks and juices, coffee and tea
Complimentary cocktails, beer and fine wine

A variety of sushi is available
Western and Japanese styles of hors d'oeuvres
In addition to the standard alcoholic drinks, this lounge also features complimentary Japanese sake

---

Business center and services

International newspapers and magazines
Business center and work corrals
Telephones with complimentary local calling and data ports
Complimentary Internet access with free WiFi throughout lounge

---

Shower and Facilities

Shower rooms
Shower amenity kit by H2O

---

Special facilities

---

Additional Pictures
Click here to see a total of [ 19 ] higher-resolution pictures for this lounge.

---

Note: Information deemed reliable but not guaranteed, contact your airline to confirm lounge information.
Custom Search
Selected Lounges: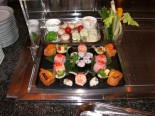 United Airlines' First Class Lounge at Toyko Narita Airport
---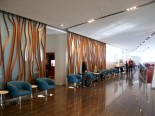 Air Canada's Maple Leaf Lounge at Toronto Pearson Airport
---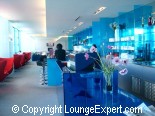 Virgin Atlantic's Clubhouse Lounge at San Francisco International Airport
---