Statistics:
Total lounges: 698
Total pictures: 1090
Page-views today: 52

US Airways US Airways Club,
Philadelphia International Airport (PHL), Concourse B/C, Philadelphia, USA
---
Location
Airside - on the 3rd Floor, between Concourses B and C.
Hours - * Note that opening hours information are deemed reliable but subjected to airline schedule and seasonal changes.
05:30 - 22:00 daily.
---
Admissions Policy
All immediate family members can enter a US Airways Club with the cardholder, but the number of persons who are not immediate family will be limited to two (2) at any one visit - Cardholder must be 18 years of age or older - Cash bar, complimentary soft drinks - Non-smoking.
---
Overview
---
Food and Beverage
---
Business center and services
---
Shower and Facilities
Wi-Fi access and long distance telephone calls are both subject to payment. Conference facilities must be reserved in advance and are subject to payment.
---
Special facilities
---
Additional Pictures
---
Note: Information deemed reliable but not guaranteed, contact your airline to confirm lounge information.
Custom Search
Selected Lounges: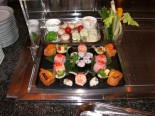 United Airlines' First Class Lounge at Toyko Narita Airport
---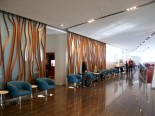 Air Canada's Maple Leaf Lounge at Toronto Pearson Airport
---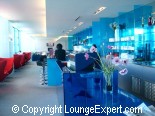 Virgin Atlantic's Clubhouse Lounge at San Francisco International Airport
---