Statistics:
Total lounges: 698
Total pictures: 1090
Page-views today: 57

United Airlines United Club,
Benito Juarez International Airport (MEX), International Terminal 1, Mexico City, Mexico
---
Location
Airside - Mezzanine Level, third floor.
Hours - * Note that opening hours information are deemed reliable but subjected to airline schedule and seasonal changes.
---
Admissions Policy
Note: Formerly known as United Red Carpet Club (RCC), the name is changed to United Club following the merger of United Airlines and Continental Airlines.
Members and their immediate family traveling together in any class of service.
United Airlines Premier Gold, Premium Platinum, Premier 1K, and Global Service members in any class of service on a same day International itinerary.
Star Alliance Gold members in any class of service on a same day International itinerary.
Passengers ticketed in any Star Alliance airlines First and Business class, this include normal purchased tickets, mileage award tickets, as well as upgraded tickets on a same day International itinerary.
One-time-use passes allows one person one time entry. No guest are permitted. The one-time pass cost US$50 at the club, and US$39 online. Note that passes purchased on-line are only valid for clubs located in the US.
Members can invite up to two guests per visit who are not immediate family members.
---
Overview
---
Food and Beverage
Complimentary breakfast including toast, bread, crossiant, muffin, bagel and cream cheese.
Complimentary afternoon snacks such as chips, fruits, vegetable and dip.
Complimentary soft drinks, juices, coffee, tea and cappuccino
Complimentary selection of beer, wine and spirits
Premium alcohols available for purchase
United is beginning to offer sandwiches, salads and additional snack items for sale. Available initially at Chicago, Denver, Los Angeles, Orange County, San Diego, and San Francisco; other locations to follow.
---
Business center and services
Complimentary WiFi access
Red Carpet Club members can access WiFi at most locations using their membership numbers
All other customers can request PIN cards from customer service agent at the lounge entrance desk.
---
Shower and Facilities
---
Special facilities
---
Additional Pictures
---
Note: Information deemed reliable but not guaranteed, contact your airline to confirm lounge information.
Custom Search
Selected Lounges: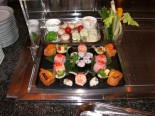 United Airlines' First Class Lounge at Toyko Narita Airport
---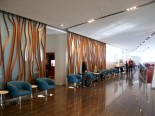 Air Canada's Maple Leaf Lounge at Toronto Pearson Airport
---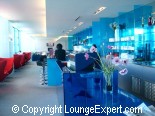 Virgin Atlantic's Clubhouse Lounge at San Francisco International Airport
---